A Comprehensive Guide to Building Your Brand Identity
12/1/2022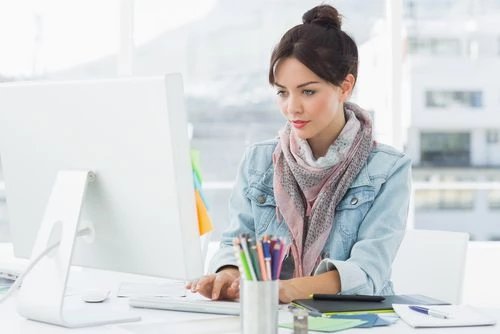 Let's Start A Conversation:
Building a memorable and clear brand identity is the first step to growing brand awareness and long-term marketing success for your Saint John company. A strong brand identity, that remains consistent and cohesive across all your marketing materials, should be a crucial element of your business strategy.
Cultivating a defined brand identity doesn't happen overnight though, and it can be a challenge to get started on learning how to create a brand identity. With so many choices for fonts, colours and other design elements, this can quickly become an overwhelming process to even begin. However, the most important thing you need to get started on building your brand is a deep understanding of your business and how you want to present it to the world.
You may have some questions about how to build your brand – and fortunately, we have some answers!
What is Brand Identity?
Brand identity is how businesses share and communicate their values, goals and purpose with both prospective and existing customers. It is the face of your business and the key to a strong marketing strategy. When digging into the specifics though, your brand identity is your business' logo, personality and messaging, colour palette, typography and overall style or aesthetic. It is essentially how your brand looks, feels and connects with people.
Why is Brand Identity Important for Your Business?
Creating a defined brand identity is vital to building your business and establishing yourself in the industry, but why exactly is it so important?
Establishes credibility in the industry and community
Once you know who your target audience is, you want to ensure that your brand identity is memorable and always creates a lasting impression with them. It helps shape public perception of your company, and if successful it builds trust and loyalty with customers.
Generates new customers and excites existing ones
The more effectively you communicate your business' purpose through a strong identity, the easier it will be to connect with and attract new customers. And although gaining new customers is a great benefit, you can also foster your relationship with current customers and turn them into long-term clients.
Prepares you for future marketing success
Creating a brand identity will also provide you and your team with everything you need for future marketing campaigns. Establishing brand guidelines for your business will streamline the entire process. As you sift through various product options like brochures, posters and signs you won't have to worry about designing a new logo or choosing new any fonts. Plus, every campaign you launch, in any marketing channel, continues to build upon your brand identity.
How Do You Build a Successful Brand Identity?
The process of building a strong brand identity includes implementing several best practices, rather than being a rigid, step-by-step procedure. Depending on your industry, the size of your business and your intended audience, the exact steps you'll take will be unique. Instead, consider the following as you're working on your brand.
Identify your target audience
Before you start choosing design elements and solidifying the look and feel of your brand, you need to conduct market research, establish your niche and identify your core customer group. Start by asking yourself these questions:
- Who is your ideal customer?
- What do they need or want?
- What is your customer's biggest challenge?
- How can you solve that challenge?
Once you know your target audience, you will gain a better understanding of how best to market your business to them, whether that be online, in print or both.
Create an impactful mission statement
A mission statement communicates your company's values and objectives. What is the purpose of your business, and how is it bringing that purpose to life? This is the foundation of your brand identity and another great starting point before deciding on visual design elements. Aim to create a mission statement that is both clear and concise, but also effectively demonstrates your vision and goals.
Research your competition
Your brand's identity should differentiate your business from the rest, but you can't do that unless you know who it's up against. After conducting market research to learn more about your target audience, you will also start to have a better grasp of the biggest competitors in your industry. Consider the following questions:
- How does your business stand out against the competition?
- What unique value do you offer that others in the industry don't?
- Why should customers choose you?
Be innovative and decide what makes your business special. Being aware of your competition will help you learn the best advertising techniques for your industry and understand how to stand out in future marketing campaigns.
What Are Best Practices for Designing Visual Brand Identity Elements?
When creating the visual elements of your brand, start with the basics such as your logo, colour, typography and language.
Design the right logo
When you start to build a brand, the logo design is often the first thing people think about in the creative process. It is the most recognizable part of your brand and often the first thing a customer will see on your website and branded materials. You'll want your brand's logo to be eye-catching, distinctive, and a clear representation of your business.
To keep everything consistent, it is best to incorporate your brand's colour palette and typography into the design as well.
Choose brand colours & type style
Your colour palette should consist of one or two main colours with a few accent colours that complement each other well. Too many colours at once can look chaotic and mismatched, so keeping things simple is often the way to go. Your colour combinations should all go well together and allow you to mix and match when designing any branded materials.
Typography and fonts work similarly – keeping them simple and clean helps to maintain a legible, distinct look to your brand identity. Two font choices are the most you should use at once, and you should always make sure that they complement each other. An easy way to do this is by selecting one serif and one sans-serif font.
It's also important to consider the tone that is conveyed with specific fonts. Rounded and curlier fonts are generally regarded as friendlier and warmer, whereas less frilly fonts are perceived as straightforward and professional.
Use language that your target audience can identify with
Using the right language and tone is vital to communicating your brand's message to your audience and customer base. The tone you decide on should be used across social media, your website, and any advertisements, so it is important to craft it carefully to match the overall feel of your brand effectively.
A great start to finding the right language and tone for your brand is thinking about the adjectives you would use to describe your business. Is your brand friendly and fun or professional and knowledgeable? How do you want customers to perceive your business? You can position your brand's personality and tone in a way that creates the right feeling and perception about your business.
Create a style guide with brand identity guidelines
A style guide documents all brand identity elements such as your logo, colour palette, fonts, templates, and outlines any rules and best practices. You can also include recommendations for selecting images and the language or tone used for written content. This can go a long way to prevent the misuse of your logo or incorrect typography and colours.
It also helps maintain cohesive branding that stays consistent across your entire business. You've taken the time to design and select everything, so now you need to ensure that your brand identity has clear, consistent messaging across all your digital and printed marketing materials.
What Kind of Branded Materials Do You Need For Your Saint John Business?
This ultimately depends on the size of your business and the kind of industry you're in, but you can't go wrong with basics such as brochures, direct mail pieces, business cards, signs and graphics. Your branding should be consistent across all marketing materials, including digital spaces such as your website and social media accounts. Both in print and online, your brand should leave a strong impression and connect authentically with customers.
If you need a guiding hand when it comes to creating new brand materials – or if you have a style guide already and are looking for new marketing and print materials for your business – count on the pros at KKP Saint John. We provide a comprehensive range of print, design and sign services as well as marketing assistance to Canadian businesses, so contact us today to get started on your next project!
Back