How Window Decals Can Benefit Your Business
12/2/2022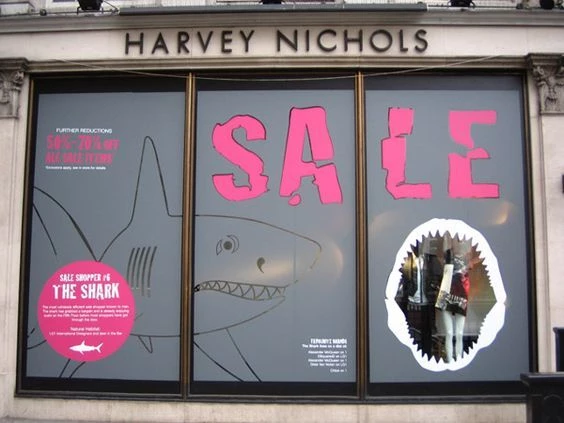 Let's Start A Conversation:
Using dynamic, eye-catching window decals is a great way to customize the appearance of your Saint John business, show off your brand's personality, create a welcoming atmosphere and bring in new customers.
What Are the Benefits of Custom Window Decals?
Whether you want to display business information, branded images, current deals or new promotions, window graphics are the perfect advertising tool.
- Durable and designed to withstand any kind of weather
- Provide privacy for your business
- Low-cost with high impact
- Easy, low-hassle installation
- Simple to switch out whenever you want to change the design
- Fully customizable with tons of different styling options
Which Types of Window Graphics Will Work Best for You?
With so many custom options to choose from, how do you know which kind of window graphics will work best for you? To help you out, we've created a breakdown of the most common business window decals and design choices, including stickers and clings.
Window Stickers
Stickers have a printed image on one side and adhesive on the other. While usually quite strong initially, this adhesive may degrade over time depending on the type used. High temperatures may cause the adhesive to soften, destroying the bond between sticker and surface. Lower temperatures may make the sticker brittle.
Because of their design, stickers have an inherent disadvantage: They must be placed on the external side of a window in order to be visible to those outside. This means prolonged weather and sun exposure, which can result in a shorter lifespan.
Static Clings
Window decals are great tools but sometimes you need something shorter-term. Static cling decals are very similar to standard window decals, but they adhere to the surface using static cling rather than an adhesive.
They are generally placed inside windows, thereby protecting them from the elements while still being visible to passersby. Promotional window clings are easy to place and remove whenever you want, leaving no adhesive behind. This makes them perfect for short-term promotions. They're also reusable, which works great for seasonal decorations that go up every year.
However, static cling decals don't endure a lot of long-term use, so if you're in need of something durable this may not be the best option.
Standard Window Decals
The standard window decals for businesses can transform clear windows into useful promotional and informational space. Whether you want to showcase your logo, business name or any other useful information, window decals are a colourful and professional way to do so. They are made with self-adhesive vinyl making them great for long-term displays.
There are several different strengths of adhesive you can choose from: semi-permanent adhesive keeps vinyl window decals in place until you apply a heat source to remove them, while weaker adhesive allows you to slightly adjust the decal once placed.
Due to their adhesive strength and durable material, decals are a great option for external placement. Unfortunately, they aren't reusable, making them a better choice for one-time deals, brand promotions or long-term designs.
How Can You Use Business Window Decals?
With so many types of window decals to choose from, there are lots of creative ways you can utilize them for your business. Here are some of the most popular uses:
Branding
Your brand identity is essential to your success. Make use of your window space to show off branded graphics and logos, giving your business a more professional and polished look. Window decals can help spread brand awareness and create a space that is memorable and welcoming for anyone who walks by the door.
Events and Promotions
Are you running an event or a temporary sale? Window graphics can spread the word and help let people know. Window static clings are a top choice since they are easy to install and remove, making them perfect for temporary displays.
It's also the perfect option for celebrating holidays throughout the year. Let people know about a new holiday sale or inform them that you are hosting an Independence Day event. Whatever your business has going on, window graphics can let people know.
Important Business Information
Every business has information that is useful to its customers. For example, you may want to clearly display your hours on your front door. Alternatively, you may want to include pricing information for your most popular products and services. If your customers need information, window decals for business displays are great for getting them up to speed.
Privacy
If your business is on the ground floor or has windows that people can see through from outside, you may want to give your team and customers more privacy. Window decals can partially and completely obscure the view through a window while maintaining an attractive, professional look.
Are you performing some construction? Or perhaps you have a space you don't want customers to see, like a storage area or kitchen. Window decals can work on exterior windows or interior glass walls and help you keep those areas hidden.
Unused Real Estate
Your business may have some real estate it isn't ready to use yet. Perhaps it is a new location that won't be opening for a little while. A window decal can help obscure unused space while simultaneously promoting your business.
If you are a landlord or developer, this is a great way to let possible tenants know that you have space available. Try incorporating the space availability and contact information into the decal's design so anyone passing by can contact you.
What Window Decal and Window Graphic Transparency Options Are Available?
When placing anything on your windows, it's important to consider how it will affect the amount of natural light coming inside. To provide owners with variety, window decals come in several different levels of transparency.
Opaque Decals
Your window decal can be made using an opaque background. These fully block the light and view from a window. They can be used to cover up unsightly views, such as a construction zone or garbage area. Additionally, they can be used to partially obscure a window for privacy.
Opaque decals don't let much light pass through the material, creating a poster-like effect. Areas not covered by design are generally white but can be customized with other colours.
These can be a great option during the summer months or in hot climates, when sunlight can drastically raise the room temperature. However, too many or poorly placed opaque decals can make a building seem dark.
Clear-Vinyl Decals
These decals are made with a clear background vinyl. This means that they will not obstruct the light or view. They are great for large displays on windows that you do not want to completely block with a decal.
Clear window decals can still sport vibrant colours but have a greater level of transparency. Areas without printed graphics are clear, allowing individuals on both sides of the glass to see through.
This type is great for letting in light and allowing patrons to look outside. They can be especially effective in restaurants or other establishments where customers will be seated for a while since the natural lighting and accessible view creates an inviting atmosphere.
Perforated
If you want the best of both worlds, perforated decals are the way to go. One side is printed with the bright graphics, while the other is dark-coloured. Tiny holes are then cut into the vinyl to allow light through. The result is an opaque-looking graphic on the side facing outward, while allowing individuals inside the store to look through the windows as well.
Double-Sided
Double-sided decals are an excellent choice if you want graphics to be visible on both sides of the window. They can be either clear or opaque depending on your needs. However, these may require custom printing, and therefore can be quite expensive. An alternative is to order two separate decals to place on each side of the window.
Types of Cuts for Window Decals
Beyond the transparency of your decal, you'll also need to choose what kind of cut you want. There are two options: contour and halo.
Contour Cut
A contour cut matches the borders of your graphics with no excess vinyl. This gives the vinyl and window a more seamless look, as though the graphics were printed right on the glass.
Halo Cut
Halo cuts leave a small edge of vinyl, approximately 1/4 inch wide. This creates a visible border around the decal.
Do You Have Extra Window Space You Want To Customize?
Get the most from your Saint John business' exterior with customized window decals from KKP Saint John! Window decals, graphics and static clings can benefit a business in any industry. Whether you want to promote your brand, advertise a special event or maintain your team's privacy, KPP Canada can help you do it.
Fast. Local. Personal. For over 35 years KKP has been supplying a comprehensive range of high-quality print, design and sign services as well as marketing assistance to Canadian businesses. For expert assistance, attentive service and affordable prices, contact us today.
Back