Invest in High Quality Signage from the Start
5/10/2021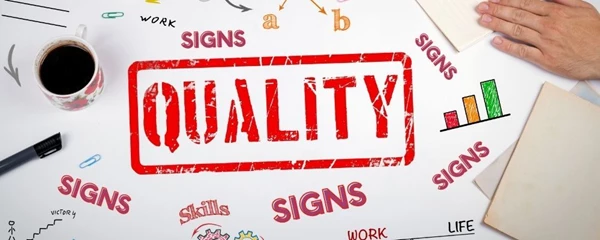 Let's Start A Conversation:
Have you ever purchased a product just because it was cheaper than other products from competitors? The answer is probably yes, but don't worry - we all do.
Consumer behavior is constantly changing. Nowadays, most of us go directly to Google to search for what we need and hope to find a great deal. Often, we dedicate a few hours to search, read reviews and compare our options, but that isn't always the case. Sometimes, if we find a reasonable price, we can choose an inferior product design, hoping that the quality will be similar to the higher-priced item. It comes as no surprise to us when this product breaks or fails to stand the test of time, and we are forced to spend more money on a product of greater quality to replace it. We know it's a waste of time and funds, but we forget about this incident fairly quickly and repeat this process all over again.
If we had to spend more time analyzing exactly how much money we would save if we paid for high-quality items the first time around, we would probably make more careful decisions. This doesn't apply only to consumer products; it also applies to business purchases where the stakes and budgets are usually higher. One of the main examples we see regularly is the signage investments companies make. Businesses often go for inexpensive signage choices to save some money but pay a lot more in the long run.
Here are the two top things you should consider when you are getting a business sign:
#1. Look for Quality.
Business owners know the power of marketing, but it can be difficult to set aside a healthy budget to invest in signage, branding, and other forms of marketing materials. Many times, decisions are made based on the project's cost instead of how the project will benefit the company.
Signage is crucial to the success of your business, as according to a FedEx report, about 68% of consumers will judge the quality of a business based on its signage. According to another study, Roughly 60% of businesses reported that changing the design or enhancing the visibility of their signage had a positive impact on sales, number of transactions, and profits, with an average increase of about 10%. Moreover, data from businesses in all industries shows that good signage directly boosts a business's profits.
We are not saying that the most expensive option is the best way to go, but you need to make sure that you receive a high-quality product that represents your brand well!
#2. Investment in a good product.
Consider the following statistics if you are on the fence about whether to invest in signage for your business. FedEx also found that over 67% of consumers will purchase products and services at a business if the signage catches their attention. Suppose you choose not to invest in signage. In that case, your business is sending consumers to your competitors, as customers will seek out goods, products, and services from those who have highly visible, great quality signage over a business that does not.
Signage is one of the most important ways to market your business as you advertise your location, the products, and services you offer and create a first impression that may help establish your business as one of the best in the industry. Your business is important to you, so make sure your signage represents it in the best way that it can and delivers an incredible, lasting first impression!
If you are looking for new signage solutions, rely on your local KKP experts.
Fast. Local. Personal. For over 35 years, KKP has been supplying a comprehensive range of high-quality print, design, and sign services and marketing assistance to Canadian businesses. For expert assistance, attentive service, and affordable prices, contact us today!
Back