Is safety signage still necessary in Canada?
5/25/2021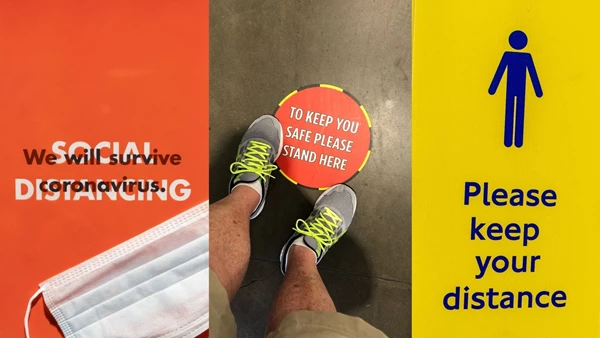 Let's Start A Conversation:
According to the Canada COVID-19 vaccine tracker, 51% of the Canadian population has received at least one dose of the vaccine. However, after the third spike of COVID-19 cases, restrictions have just begun to ease gradually and slowly.
Every business has been forced to rethink, reinvent, and shift the ways they operate. Business owners in all industries continue to look for creative solutions to open their businesses and keep their employees and customers safe.
Safety signage has played a crucial role during this pandemic. Social distancing signs, PPE, sneeze guards, and general hygiene signs have become necessary in public places. But all these new signs are more than temporary solutions and are here to stay for the most part.
These are the top reasons why Canadian businesses still need safety signage:
• To keep customers up to date about new changes and safety information. As businesses adapt their locations to comply with regulations, customers need to be consistently informed about any operational changes.
• To let people know your business is safe. Now more than ever, people want to avoid any unnecessary risks or exposure to get sick. Having custom signage that complies with health and safety standards will help your customers trust your business and visit your location.
• To display your brand. Every new sign allows your business to strengthen its brand. Using your logo and corporate colors on all your health and safety signage can enforce your brand's identity.
• To remind employees of workplace safety precautions. It's necessary to have in place a new protective procedure for all your employees. Signage can help you enforce and remind everyone what the new rules are.
Communicating with customers effectively is one of the challenges most Canadian businesses face during this pandemic. We know how hard businesses are working to keep up with local safety requirements. This is why at KKP, we have made it our mission to help local businesses by becoming their reliable providers of custom safety signage and personal protective equipment.
If you are looking for new safety signage solutions, rely on your local KKP experts.
Fast. Local. Personal. For over 35 years, KKP has been supplying a comprehensive range of high-quality print, design, and sign services and marketing assistance to Canadian businesses. For expert assistance, attentive service, and affordable prices, contact us today!
Back