Multi-Channel Direct Marketing Campaigns: 5 Dos and Don'ts
4/7/2021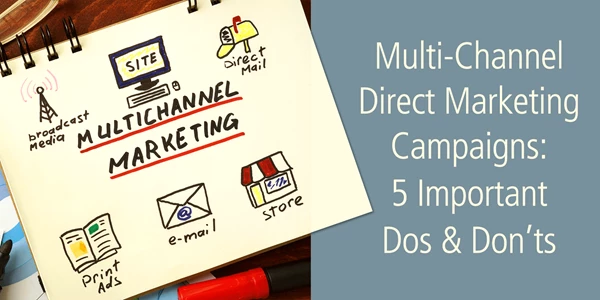 Let's Start A Conversation:
It's common for business owners to invest most of their marketing budget in only a few channels. However, marketing experts know the best way to target and engage an audience is by using various touchpoints. This is why multichannel marketing campaigns are so important.
Econsultancy reported consumers reached through multiple channels spend three to four times more compared to their single-channel counterparts. At the same time, Mashable reported 72% of consumers want to be engaged with an integrated marketing approach, but only 39% are receiving that.
This means implementing these types of campaigns can make your business stand out. So, what's the right way to do a multichannel direct marketing campaign? Here are a few ideas to get you started:
Do your direct mailers include an online response option? All your print campaigns should include multiple ways for your recipients to contact your business. If you redirect them to your website, it's ideal for building custom landing pages to help you track the responses and personalize them to tie your message together. According to the DMA, 43% of direct mail recipients prefer to respond online.
Don't overlook the efficiency QR (Quick Response) codes. If you want to add an additional point of contact to your print materials, consider a QR to redirect people to your product pages or custom landing pages. By adding one to your postcard or mailer, recipients will be able to easily scan them with their smartphones and get redirected instantly to your destination page.
Give custom pages and PURLs a chance. Instead of asking readers to respond to a general URL, direct them instead to a personalized (PURL) and a custom landing page. This will help you increase response rates, and it will give you an easy way to track your campaign's effectiveness. Some sources report that PURLs drive 20-40% more web visitors.
Personalize your mailers. Through variable data printing (VDP), you can customize your mail with names, text, and images to reflect gender, interests, purchase history, and more. Response rates for non-personalized mail in a lead nurture campaign are typically 2-3%, says the Direct Marketing Association. They leap to over 8% for lead generation to 28% for loyalty campaigns when personalization is employed, reports Caslon & Company.
Remember, consistency is crucial in every channel. When using multiple communication channels, you may need to work a little harder to ensure your visual identity and brand messaging remains consistent across all of them.
Need help finding the right channels to reach your customer and prospects? Contact the professionals at KKP.
Fast. Local. Personal. For over 35 years, KKP has been supplying a comprehensive range of high-quality print, design, and sign services as well as marketing assistance to Canadian businesses. For expert assistance, attentive service, and affordable prices, contact us today!.
Back