Branding and Logo Design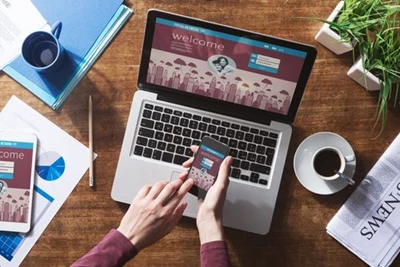 Make your company stand out with a custom logo design and branding strategy!
If you want to know how to obtain a logo for your business, or you need a logo redesigned, the KKP team can help! Your company's logo should be powerful and easily memorable. A logo is one of the most important elements of your brand, which is why a professionally designed logo is critical to ensure your brand, and your business are represented correctly.
A logo is a name, icon, symbol or design that easily identifies your company. For example; Canadian Tire's logo is a red triangle topped by a green maple leaf. There's no mistaking it! When we see anything identified with this logo, we know it belongs to this brand.
A brand is your corporate image, and it tells your customers what to expect from your products and services. Canadian Tire, for example, is a brand of auto parts, sporting goods and other items that are "Made for Life in Canada." This is what customers expect to find when they hear about this company.
When we talk about branding, we are referring to the marketing practice of shaping your brand. A good branding strategy can help you shape the way people perceive your brand, increase your brand awareness and help grow your business.
KKP can help your craft a branding strategy that will make your company stand out against competitors. There are many proactive tactics and proven marketing strategies your business can implement to guarantee all your customers have a great and memorable experience every time they interact with your brand.
Once we create the logo, other elements will help you define your brand's identity. These elements can include a specific typeface, tagline, and colour scheme that compliment the logo to create an overall branding strategy. Our team will help you understand how these elements can be applied to all your marketing materials to build consistency and integrate everything that belongs to your brand.
Leave a lasting image in your customer's minds with a custom logo and unique branding strategy!
Learn more about our logo design and branding services: