Business Stationery Printing in Canada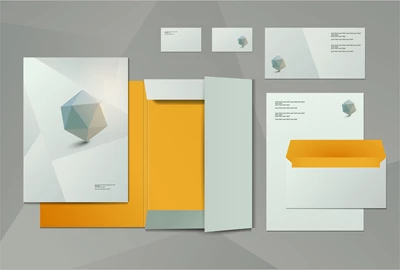 Take your brand to the next level with KKP Canada's personalized business stationery.
Custom business stationery can help a company brand its product to grab attention, in addition to helping to establish and promote the brand identity internally. No matter the size or type of your business or nonprofit, your identity is one of your most valuable assets. The image you project is key to your ability to connect with audiences and instill within them the confidence you are professional, competent and worthy of their trust and patronage.
Personalized business stationery is essential. Whether handed to someone as a business card or delivered by mail in the form of letterhead paper and envelopes, it should always make an excellent first impression.
Other stationery items, including printed invoices, shipping labels, presentation folders and calendars, must also convey a message of trustworthiness. Your company's selection of personalized stationery can also include things, such as thank-you cards, branded for your organization and individualized with your name.
Trust Our Canadian Printing Team to Do the Job Right
Our experienced team will conduct an inventory of what you have now and recommend any other printed business items or personal stationery that offer you an opportunity to impress prospects, shareholders, contributors or other important audiences.
Working in collaboration with you, the graphic design professionals at KKP will create attractive custom designs, including official letterhead, and recommend paper stocks and printing techniques that together will distinguish your operation.
Consistency is key to effective branding. When you work with us, we'll apply your logo, typeface, colours and other design elements to unify your materials and adhere to your identity standards. If your designs have become outdated, we can help you refresh them.
At KKP Saint John, we can guide you through every stage of the custom stationery printing process, including the final stage: production. We'll print your business cards, letterhead, invitations and more to the highest levels of quality, and at affordable prices.
Rely on us to design and print business stationery items, including:
Adhesive notes
Business cards
Calendars
Envelopes
Invitations
Invoices
Labels
Letterhead
Notepads
Personalized business stationery
If making an immediate positive impact is important to you, make KKP Canada your resource for printing all your business stationery. Discover the power of personalized business stationery printed in high-quality paper stock, vibrant colour inks and premium finishes.
Contact KKP Saint John today to learn more about our business stationery printing services. We'll help you with all your branding needs.