Custom Window & Wall Decals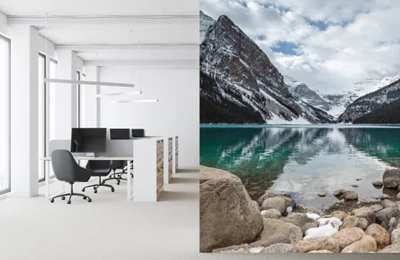 Refresh your space with promotional and decorative custom window and wall decals.
Each surface at your location has the potential to become a display space to enhance your branding, so do not let that marketing real estate go to waste! Use custom wall and window graphics to promote your products or improve your décor.
Custom wall and window graphics can be used both indoors and outside to help with wayfinding, promotional needs or just to enhance your overall brand identity. When you work with KKP, our team will come to you and perform a location survey to determine the best place to install your graphics, identifying which doors, windows and walls may be the prime candidates for graphic application.
Consider how your business or organization can use the following:
Window decals: Transform your clear windows into an attractive advertising space that showcases your products or services with decals. In addition to displaying promotional messages, you can also showcase your logo, business name, hours or other information with custom indoor or outdoor window decals. Our window decals are made of custom-printed, self-adhesive vinyl. This makes them a longer-term solution than static-cling window decals. They are also the better choice as outdoor signage for your windows or doors.
Static window clings: These window and door graphics adhere to glass surfaces through the principle of static cling. They're easier to install and remove than decal alternatives. And, unlike decals, they may even be repositioned and reused. That said, static window clings are more suitable as indoor signage solutions, and best employed for short-term use like sales promotions, holiday specials or events. Like decals, our static cling window graphics offer vibrant colours thanks to our state-of-the-art digital printing technology.
Opaque window decals: Custom printed on adhesive white vinyl, opaque window decals are commonly used by businesses and organizations in two ways; many use them outdoors or indoors as window graphics to display logos and other designs and they also apply them on conference and office doors to enhance privacy.
Clear-vinyl decals: Custom clear vinyl window decals let you add a message or graphics to any window without blocking the view or light. How? Designs are printed on clear backgrounds rather than solid-colour backgrounds, thereby offering greater visibility.
Perforated window graphics: KKP's high quality and affordable perforated window graphics are printed on flexible and durable vinyl materials. Perforated window graphics allow one-way visibility from either inside or outside your window permitting you to choose the level of visibility you want. Our custom graphics are to match your business needs, specifications, and brand colours. These type of window decals are often used in storefront for outdoor facing window displays.
Wall decals: Made from ultra-thin vinyl, wall decals are much like window decals and door decals only they adhere to painted walls or wood walls instead of glass surfaces. The advantages of wall decals over painting are numerous. Wall decals featuring your logos, custom graphics or inspirational quotes are easy to apply and there's nothing to clean up afterward. You don't need to worry about messy paint spills, drop cloths or cleaning brushes when you're done. Like to display a bigger scene — perhaps one that stretches from corner to corner? Wall decals are one great way to showcase a wall mural; our custom wallpaper is another.
Office signs: When thinking about updating your building's interior or exterior, it's a good time to consider renewing the door signs, office numbers, and other signs throughout your facility. Our attractive and affordable signage solutions extend to these applications.
Transform your space with custom business wall and window graphics!
Whether you need design expertise, help to measure an area, installing your new graphics, or even removing them later, contact us. At KKP, we pride ourselves on going to the wall — and windows — for you!
Check out our most recent articles about window and wall decals for additional ideas and inspiration: