Trade Show Materials in Canada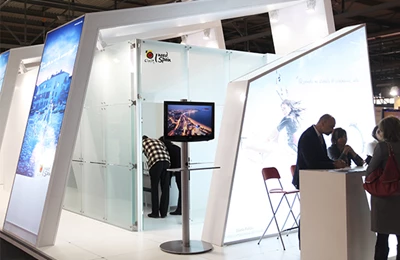 Capture Attention with KKP's Eye-Catching Trade Show Materials in Canada!
KKP Saint John offers a variety of trade show materials that will help your company stand out without breaking the bank. If you are planning on participating in a trade show and want a booth or display that will leave a long-lasting impression, our team has high-quality and affordable options for you.
Trade Show Displays & Signs
Trade shows, events and exhibits are great opportunities to gain new customers, meet your competitors, gain market visibility and get your company's name and brand recognized. The right trade show display and eye-catching banner will help make the best first impression on anyone who sees your booth. Here are some trade show booth display options to consider:
Custom Banners
Banners can be placed next to your trade show booth to welcome and greet customers. You can even use them to highlight special promotions or benefits that your business offers. Our custom banners can be printed in a variety of sizes and colours to fit your brand's unique style. We also offer retractable banners that are easy to install, carry and store.
Trade Show Pop-Up Displays
KKP Saint John offers high-quality, custom trade show displays, designed to help your business make an impact in Canada and anywhere else you may be attending an event. They are easy to set up and can help you make the most out of your trade show booth.
Printed Marketing Materials
A good trade show booth should represent your company's brand and make you stand out against your competitors. Our custom printed marketing materials will help make your company's booth look professional and welcoming. We offer brochures, business cards and other business stationery that will bring your brand to life and give visitors something to take home. Need help designing your marketing materials? Our team can help with that too!
Promotional Products for Your Trade Show Booth
Have you considered branded promotional products for your trade show display? Giveaways and unique promotional products are a great way to encourage visitors to stop and interact with your booth as well. We offer customizable bags, apparel, drinkware and tons of other options to represent your brand and help make the most of your trade show appearance.
Direct Mail Event Invitations
Make sure your current customers and contacts are aware of your next event! A great way to announce your trade show attendance is by launching a direct mail campaign to your membership list and inviting them to visit your booth.
Here are some exciting details to include to spark interest:
Where and when is the trade show taking place?
Are you showcasing any new products?
Will you be doing a hands-on demo to show off your products?
Is there a special discount, coupon or prize they may get for attending? Are you holding any giveaways?
Prepare For Your Event With a Great Trade Show Display
Make an impact at your next event with custom trade show displays and booth materials that will bring attention to your brand and excite visitors! Our team at KKP Saint John can help you plan every detail for your next trade show or exhibit. For expert assistance in Canada, attentive service and affordable prices, contact us today!