Mailing Services
With KKP mailing services, your business can deliver the right message, to the right person, at the right time!
While anyone can mail a letter, few can perform the many bulk mailing services it takes to turn a direct mail campaign around, both conveniently and affordably — like KKP.
Bulk mailings, also known as commercial mailings, are a proven marketing strategy used by businesses in a wide range of industries. Bulk mailings can be used to promote products, services, special offerings and events. They are also a great way to encourage business referrals and loyalty programs. This well-known marketing practice has proved throughout the years to provide excellent returns on investment (ROI).
A custom mailing strategy can be one of the most effective ways to reach new and existing clients. Pick from a broad range of high-quality solutions KKP has to offer including: self-mailers, catalogues, magazines, flyers, postcards, newsletters, and more. Our team can help you deliver unique mass mailings or highly targeted pieces.
Well experienced in corporate mailing services, we can assist you with printing, no doubt, but our print-and-mail services also extend to creating an appealing offer like designing an "open-me-first" mailer and developing your mailing list. Whether derived from your own customer database, acquired from a list broker or merged using both sources — the list accounts for fully 50% of a campaign's success. Your offer is worth 30%, and the creative effort another 20%.
At KKP, we're up on all the latest postal regulations. This hard-won expertise can save you time, money and frustration. We're also on top of the latest advancements in direct mailing services. Consider variable data printing. Allowing you to individualize each letter in a bulk campaign by name, images and messaging, it offers personalization that can cut through the clutter to drive home your appeal. Another attractive solution for businesses that market on a local basis? Canada Post's Neighbourhood Mail™ through KKP. It achieves "blanket coverage" mail distribution quickly without names — but with attractive postal rates!
Get all the expertise you need to make your direct mail campaigns succeed, from your trusted local KKP!
Even in this digital age, smart marketers know that direct mail works. Our team uses state-of-the-art software and equipment to produce the mailing pieces that will get you noticed every time. Make KKP your preferred one-stop, mass mailing services provider, and we'll make mail work for you!
Learn more about KKP's Mailing Services:
Direct Mail in Canada
Direct mail has many benefits for businesses – like delivering the right message to the right people and aiding with brand recognition among your customers and clients. It is a cost-effective, customizable marketing solution that targets your audience and delivers a clear call to action right to their mailbox.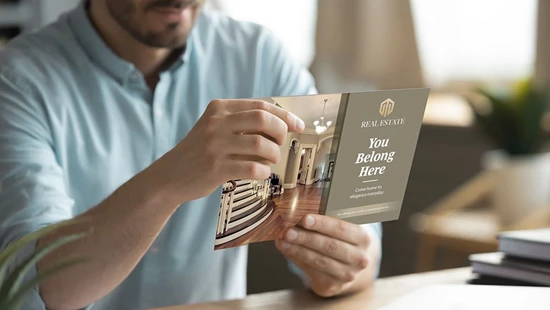 Personalized Mailings
Personalized mailings are not limited to just addressing your audience by name. Today's advancements in variable data printing (VDP) enable you to go far beyond "Dear Sir or Madam" to personalize your letters, postcards, and other direct mail pieces. There is a lot more you can do to improve your open rates, engagement, and targeting.