Print Finishing Services in Canada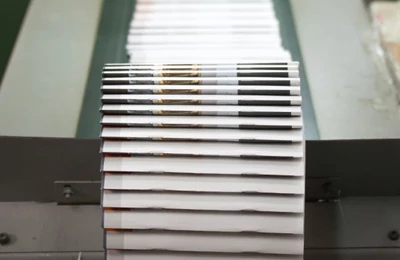 We're the Local Print Shop You Can Trust in Canada
If you'd like your annual report, brochure, direct mail campaign or other business materials to stand out, KKP Saint John can help you turn your standard marketing collateral into something extraordinary with our wide range of print finishing services.
To improve the look, touch, appeal or functionality of your printed pieces, you can choose from a variety of specialty papers, bindery options and other finishing services. We'll help you transform what was once a simple stack of printed paper into communications that can boost sales, enhance engagement, improve response rates and provide greater value to your customers.
Custom Print Finishing Services Located in Saint John, Canada
Contact our printing services team to discuss the different finishing options we can use for your marketing materials. Here are just a few examples of how our finishing services can benefit your business:
Binding: If you are creating training materials for students or employees, you may want the books to easily lay open and stay flat for quick reference, highlighting or note-taking. Spiral binding provides an easily scalable, affordable solution if you are mass-producing training manuals or materials. If you want to expand the lifespan of your business collateral, our binding services are a popular alternative that uses an adhesive to hold pages in place with a flat spine. It's often a popular choice when producing books, catalogues and employee manuals. Other options include comb binding, velo binding, wire binding and saddle stitching.
Embossing: Embossing is a unique technique that presses letters, shapes or designs into printed marketing materials to create a multi-dimensional look and feel for the recipient. If you are looking to add a distinctive look to your brochures, a new texture to your business cards or bring your presentation materials to the top of the pile, embossing will help your materials pop.
Folding: Once the ink is applied, paper emerges flat from the printing press. Folding is the process by which a machine creates crisp, sharp and precise folds for your invitations, mailers, tri-fold brochures and other printed materials. Simple? Not always. For example, thicker paper often requires scoring before folding to prevent cracking, tearing or rough edges.
Laminating: If you plan on creating a restaurant menu, equipment instructions for a shop floor or signage that needs to stand up to heavy use, or prefer an attractive glossy finish on a report cover, then we recommend our laminating services. Lamination can help preserve, protect or enhance the look of your documents.
Need more services? Our local print shop can handle all the following as well:
Booklet making
Coating
Collating
Perforating
Foiling
Padding
Spot varnishing
Scoring
Sealing
Die-cutting
Tabbing
At KKP Canada, we want to make sure that when you invest in your marketing materials, they get the extra attention and special finishes they need to stand out. Trust us for all your printing needs.
Talk to the experts at KKP Saint John. Contact us now.